TANYS is pleased to announce Alex Calvo as the 2014 winner of the TANYS, Ruth R. Legg Memorial Scholarship.

Alex is a 2014 graduate of Lyons Central School, Lyons New York (upstate New York). He began his theatre appearances at the age of three, performing during a dinner theatre skit for Geneva Theatre Guild.  Since then, Alex has performed and been involved as a crew member in well over a dozen productions at his school, at Young Artists Festival, East Palmyra, New York, with Geneva Theatre Guild, Geneva, New York, with Lyons Community Players, Lyons, New York and with Wayne County Historical Society, Lyons, New York.  Some of his roles include Roquefort in The Aristocats,  Sir Evelyn Oakleigh in Anything Goes, The Cat in the Hat in Seussical, and Willy Wonka in Willy Wonka and the Chocolate Factory.

2014 Ruth R. Legg Memorial Scholarship Awarded

Applicants will find more information and an application 
HERE
or email  info@TANYS.org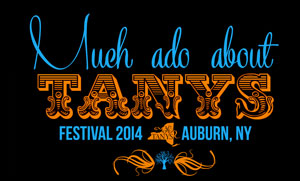 It's never too early to start thinking about

  Alex was sponsored by Geneva Theatre Guild.  President Hugh Mater states, "I find Alex to be an enthusiastic and inventive young actor who enlivens his characters with a palate of skillful touches."  Mr. Mater went on to state that Alex is particularly good with creating accents.

Along with theatre, Alex is an accomplished clarinet player and pianist. He has participated in community soccer and was a 4 year Varsity Tennis team member.

Alex will attend SUNY Fredonia, studying to attain a BA in Theatre Arts. His goal is to become an actor but he is also interesting in all aspects of theatre – from set design, to script writing. Alex plans to continue his involvement in community theatre and believes "Community Theatre brings entertainment and culture to our towns, villages and cities, and creates a more vibrant feeling of community through the arts."